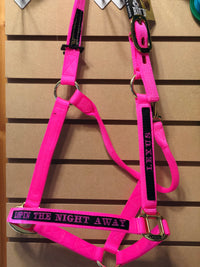 CUSTOM Big D Nylon Halters
Custom halters include a Big D halters overlay and name in 2 places. 
Orders are accepted on a first come / first serve basis 
Delivery times vary but average 4 to 6 weeks.
 In the note section, state 
- halter size (horse size Is the average size)
- halter color 
- overlay color 
- name for nose 
- name for cheek 

Built to last.  Rot resistant nylon doubled and tripled for strength.
Exclusive, solid brass buckles, rings and squares.
Yearling
Horse size:  800 - 1100 lbs.
X-Large Horse size:  1100 - 1500 lbs (please contact for availability)