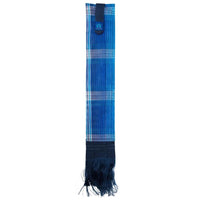 Kensington Textiline Tail Covers
Do you know that it takes a YEAR to grow a new tail? Protect those precious hairs!
Grow Your Top Tail: Keeping the tail protected can maximize the growth you do have by reducing breakage. 
Durable Textilene® Construction: USA-made, 1000 x 2000 denier fabric hails from Alabama and is specially formulated to withstand fading, fire, mildew, soiling, and wear and tear, even in the most extreme weather conditions. 
Breathable is Better: 78% air permeable mesh means that your horse's tail can still breathe - lessening the chances of funk caused by lack of circulation.
Tame the Tangles: Wash, detangle, braid down, and bag - your horse's tail will stay tidy and tangle-free.
Built In Pest Protection: 4"-5" of fringe at the bottom of the bag replace the horse's natural ability to rid itself of pests.
Ultra Easy to Use: A hook and loop fastener quickly feeds through the braid to hold the bag in place.